New Album Releases
27. Jul 2012, 16:07
SPACE KELLY Japan Release am 01.08.2012
Bereits im Frühjahr habe ich das neue Space Kelly - Album "Bist du dabei?" (El Muto Records / Flake Records) im soundtrax eingetrommelt. Man sagt, ihm sei damit "[...] ein vergnüglicher Vorsommer-Soundtrack gelungen, der an schottische Vorbilder wie The BMX Bandits und The Soup Dragons erinnert." (KulturSPIEGEL). So isses! Im Herbst 2012 geht der gute Mann mit seiner Gitarre auf Japantour... hin da.
Release Deutschland: 23.04.2012 (El Muto Records)
Release Japan: 01.08.2012 (Flake Records)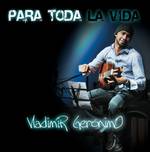 Zudem bin ich auf der neuen CD "Para Toda La Vida" vom dominikanischen singer-songwriter Vladimir Geronimo de los Santos an den drums vertreten. Church-Pop at its best.
Torpedo Boyz 7"
02. Jul 2012, 18:07

"Ich bin Ausländer (leider zum Glück)" für kurze Zeit als 7"-Single erhältlich! Die Vinylspezialisten von Kernkrach Schallplatten haben es sich nicht nehmen lassen, eine streng limitierte Auflage der Single "Ich bin Ausländer (leider zum Glück)" und dem Krautrocker "Maschinenwelt" auf der B-Seite herauszubringen. Obendrein kommt die Scheibe auch noch in einem handmade screen print cover artwork daher. Stark!
Hier geht's zum passenden Video: "Ich bin Ausländer (leider zum Glück)"
RobertMemmler
@twitter